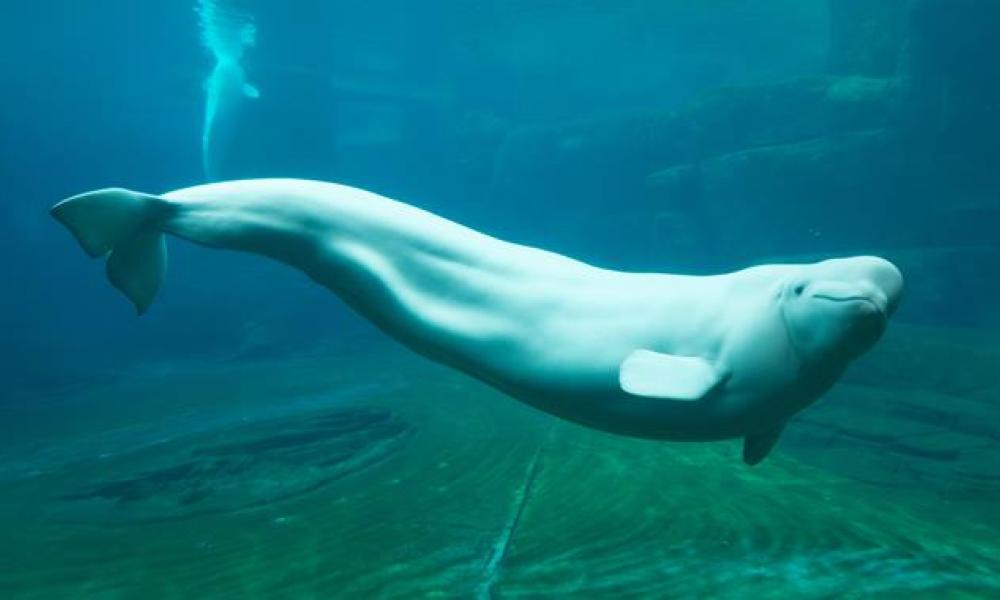 Canada's Michael Smith Genome Sciences Centre (GSC) worked with genetic material from mother and daughter beluga whales who were cared for at Vancouver Aquarium for almost three decades.
The Genome BC funded research has been published in the scientific journal Genes. Dr. Steven Jones, head of Bioinformatics at the GSC, led the research with colleagues from the University of British Columbia and Fisheries and Oceans Canada (DFO).
"Beluga whales Qila and Aurora have contributed to an important scientific initiative that will allow scientists to better understand how this at-risk species is faring in a quickly changing environment," said Dr. Martin Haulena, head veterinarian at the Vancouver Aquarium, an Ocean Wise Initiative. "We were approached by our peers at Genome BC last fall and the collaboration is providing new insight into these iconic animals."
When the whales fell ill in November 2016, Dr. Jones suggested genomics might help the Aquarium's veterinary team discover what was causing their illness.
"We thought there might be some kind of infectious agent causing the illness," explained Dr. Jones. Using sequencing, scientists looked for the DNA of a virus or pathogen among the belugas' DNA in samples provided by the Aquarium's veterinary team.
The researchers determined neither bacteria nor a virus was responsible. Results of the investigation concluded that the cause of death in both animals was a toxin, although extensive testing was unable to identify the exact substance involved.
"We had a lot of beluga DNA and we realized we had enough to sequence the complete beluga genome," said Dr. Jones. "We think it's one of the most complete mammalian genomes in the scientific world. It will ultimately provide us with many tools to study beluga whales."
A thorough understanding of beluga genetics may aid conservation efforts for the species, which has been designated at-risk in Canada by the Committee on the Status of Endangered Wildlife in Canada (COSEWIC); two populations are listed under the Species at Risk Act (SARA).
A genome is the description for all of the DNA (deoxyribonucleic acid) in a living organism. It contains all of the information needed to build that organism and allow it to grow and develop, stored in one long sequence of DNA. The sequence determines the organism's characteristics, inherited traits, diseases it may be susceptible to, and it also provides a historical archive of the organism and its species.
"The beluga genome provides a baseline for the species that researchers have never had access to before," says Dr. Catalina Lopez-Correa, Chief Scientific Officer and Vice President, Sectors at Genome BC. "Scientists can now use it to understand the evolution of the species and how it has adapted to icy aquatic ecosystems. They can investigate population structure, genetic variations, and recent demographic events, begin to understand gene functionality, identify areas of vulnerability to disease, and learn what might be impacting the species' ability to thrive, especially in the face of a warming climate and rapidly changing environment."
The genome is a roadmap for understanding an organism, one that researchers can reference and study for years to come. It can aid in identifying conservation measures for recovery, management, and protection of a species.
"Our mission is to conserve and protect aquatic life," said Dr. Haulena. "Qila and Aurora will continue to help us do that by providing information about their species well into the future."